5 Benefits of Commercial Window Cleaning in Las Vegas
---
---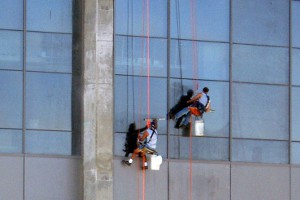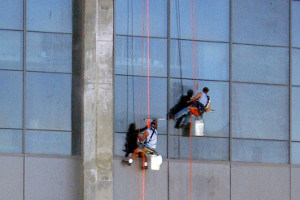 As a business owner, there are some things you would rather not think about and leave to professionals. Cleaning and maintenance is one of those items. You're too busy making money to dwell on window cleaning. Luckily, the pros at Southwest Ultra Clear, Las Vegas's leading commercial window cleaning company can think about your windows for you. After all, there are numerous benefits to having a clean window front. Here are just a few below:
Curb Appeal – In business, image is everything. Every business owner invests a great deal of time and money in order to make a first and lasting impression with every client and every customer. Each element of your property from your interior décor to your landscape has to be perfect and a reflection of the high standards you set for your company. Clean windows are the front lines of any business or highrise and make an indelible impression. A routine professional window cleaning enhances curb appeal and is an attractive feature to your commercial property.
Property Value – Let's face it. Cleaner is better. Like most business owners, as your business grows there is good chance you will relocate. This means selling your old property in order to invest in new property. In order to maximize your old office's resale value, it is important to keep it clean at all times. This begins by making sure the exterior is in tip top shape. There is nothing impressive about partially clean windows. It important that you hire a professional company that can regularly give your windows a thorough cleaning.
Preserve Your Windows – Commercial window cleaning keeps your office windows in excellent condition year round. Time, weather, dirt, grime, and the elements can all build up on your windows causing deterioration and discoloring. The longer the interval between each cleaning, the more difficult it is to restore your windows back to their new look.
Save Time – If you're a business owner, you don't have time for building and property maintenance. While you're focused on running your business and generating revenue, you need to depend on a professional company who can clean your windows, as well as other areas of your office interior and exterior, so that you don't have to think about it. An experienced company can perform a commercial window cleaning job efficiently, getting in and out quickly. This saves you time and money, and lets you get on with your business.
Safety – If you own a highrise or multilevel office building, it can already be assumed that neither you nor any of your employees can undertake the daunting task of cleaning the windows. Since highrise window cleaning is a hazardous job, it is important to hire a certified, licensed company with a skilled team that can do the job safely with the right equipment. The last thing you need to worry about is safety. Las Vegas window cleaning experts can take that worry away.
If you are looking for a commercial window cleaning service in Las Vegas, then contact Southwest Ultra Clear. Call us at 702-219-3525 or complete our online request form.