#1 Window Cleaning Company in Las Vegas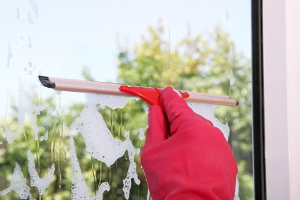 With over 2 decades of professional window cleaning experience, Southwest Ultra Clear offers superior residential and commercial window cleaning for Las Vegas and the South Nevada. Our team of experts efficiently cleans all windows for homes, small businesses and highrise corporations. We are a Nevada licensed, full service company, which means we have the experience and skill necessary to bring you total satisfaction and earn your business time and time again.
Commercial Window Cleaning in Las Vegas
We specialize in Las Vegas commercial window cleaning. We provide hassle-free, affordable service for offices and high rises across Las Vegas that you can depend on. We understand that your business' professional image is vital at all times. Therefore, clean bright windows are a good reflection on you and your company. When you want a window cleaner that you can rely on, contact the professional window cleaners at Southwest Ultra Clear to make your company shine every time!
Safe, Certified Window Cleaning Pros
Window cleaning is a highly technical, hazardous job. It requires highly trained pros that have the experience to work from window to window while elevated several floors up a highrise. At Southwest Ultra Clear you can be confident that we only use the safest equipment and employ highly trained professionals to clean every story of your highrise. We are a licensed and insured window cleaning service with a solid reputation with home and business owners in Las Vegas.
We Get Your Las Vegas Windows 100% Clean
Halfway clean window fronts are not appealing. We have an all or nothing approach to every company we serve and every window we wash. We guarantee thorough window cleaning from top to bottom. You can count on consistent spot free glass across your entire building. Let the sun shine in with our Las Vegas window cleaning service! Contact us today for a free estimate.
Complete Cleaning Service Package
We offer a full range of cleaning services that cover all of your office cleaning needs. In addition to commercial window cleaning, we also offer residential window cleaning for large and small homes. Our window cleaning services cover both interior and exterior windows. We'll have your home's windows sparking!
Other items we clean include:
Storm windows
Mirrors
Screens
Skylights
Chandeliers
Ceiling fans
Solar panels
Gutters
Bird Barriers
Las Vegas Pressure Washing Service
For cleaning jobs that require professional assistance, Las Vegas pressure washing service is your solution. We can tackle even the most difficult cleaning detail and have your building or surface looking brand new once again without damaging your property's finish. Our pressure washing equipment is state of the art and can easily accommodate any project. We carry a combination of hot/cold washers and soft-washing equipment which allows us to clean more efficiently than our competitors without sacrificing the high quality service that we offer. This saves you time and money and leaves you with a renewed building.
What Our Las Vegas Customers Are Saying About Us
Southwest Ultra Clear LLC is Rated: 5 / 5
based on these 3 happy customer reviews.
---
"We have Brian and his team regularly clean the windows at our office. They always show up on time and provide us with their services for a fair price. I would definitely recommend them to anyone looking to have their windows cleaned."
---
"I have worked with Brian for the past 4 years. He always meets our company's demands with quality work and is affordable. I would highly recommend Southwest Ultra Clear to anyone. Keep up the good work!"
---
"Southwest Ultra Clear are professional and knowledgeable in all aspects of window cleaning. I would recommend them in a heartbeat."
---
Recent Articles
Latest Window Cleaning Tips
Solar panels have become a popular and eco-friendly solution for harnessing renewable energy. However, over time, these panels can accumulate dirt, dust, pollen, and other debris, which can hinder their performance and efficiency. As a professional window cleaning company, we understand the importance of maintaining clean solar panels. In this blog post, we will explore…
You need to take steps to ensure your business in the Las Vegas area is going to thrive and enjoy the best possible success. After all, your company provides your livelihood as well as the livelihoods of those employed. So, you need to make sure it's bound to go strong for years to come by…
If you are looking for a Las Vegas window cleaning service, please call Southwest Ultra Clear at 702-219-3525 or fill out our online request form.