Pressure Washing Tips for Your Las Vegas Home or Office
---
---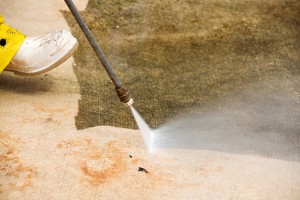 When it comes to your home or business image, the appeal of your property's exterior goes a long way. There are many ways to achieve curb appeal. One of the simplest and most practical ways is by keeping your residential or commercial property exterior professionally and routinely pressure washed. When you are ready to take this next step, then contact your local pressure washing professionals at Southwest Ultra Clear.
Pressure Washing is a Smart Choice
What is pressure washing? It's simply a powerful stream of water that cuts through and removes all dirt and buildup on your home or office's exterior surface. Over time various natural elements begin to develop and spread across your siding, stone or stucco wall.
Although DIY power washing rental is common, it's not the smart choice. A professional pressure washing company offers affordable power washing which will safely remove materials from your home without damaging your wall's surface. Pressure washing companies such as Southwest Ultra Clear know which spray options are best for your exterior. They can clean the surface while protecting its finish.
Yard Prep Prior to Power Washing
Before any pressure washing, it's important to prepare all outdoor accessories and items attached to or near your home or office base. Some examples may be:
Move all patio furniture away from the area
Check for cracks in windows.
Make sure every window is closed tight.
Relocate potted plants into another area
This makes your Southwest Ultra Clear contractor's job run more smooth and efficient, and end up saving you time and money in the long run.
Choosing the Right Pressure Washing Service
When you begin searching for a reputable pressure washing company, it's important to find an experienced company that you can trust. Here are some qualities to look for:
Extensive Experience & Background
Reasonably Affordable with a Fair Estimate
Professional, Courteous & Efficient
Utilizes safe cleaning solution
Additional Benefits of Professional Pressure Washing
There are numerous benefits to choosing a professional pressuring washing service over doing it yourself.
When your home retains its new look, curb appeal, and the property surface is reserved without damage, you can maximize your home's value. It's automatically an attractive feature to prospective home buyers. Professional washing makes a much greater impact.
Professional cleaning, restoration and maintenance are comparatively affordable services. The average rental fee is $100 per day. This doesn't include chemicals you'll have to purchase and other possible accessories. Plus you'll spend hours doing it yourself and never feel totally satisfied. For the same investment, you can hire a Southwest Ultra Clear licensed staff, get the job done in half the time, and have peace of mind knowing the job will be done right,
If you are looking for a professional Las Vegas pressure washing service, then contact Southwest Ultra Clear. Call us at 702-219-3525 or complete our online request form.