We Do More Than Window Washing!
---
---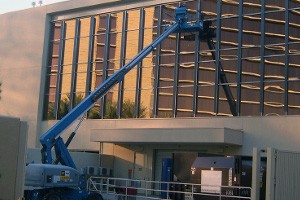 Southwest Ultra Clear is Las Vegas's number one window washing company. For over 20 years we have been serving homes and businesses across the Southern Nevada region. But did you know that we do more than windows? We offer a comprehensive package of cleaning and maintenance options for both your residential and commercial interior and exterior. Take advantage of all our cleaning features.
Mirrors – We clean all mirrors regardless of their size or where are they are located on your wall or ceiling. We use a specialized formula that gives your mirror a thorough shine without hurting the finish so that it looks great at all times!
Screens – We can treat all screens for both doors and windows. We remove your screens clean them and make recommendations for repairs, restore them to their new appearance, and then return back to the frames.
Skylights – One of the most difficult items to reach in your home or office building is the skylight. In most homes, the skylight is installed up inside an opening in your roof, making it complicated and unsafe to clean. Most businesses have skylights that are elevated at a high level and decorated with intricate designs. Whether it's your home or office, our professional team knows how to get to those hard to reach places.
Chandeliers – That beautifully decorated chandelier in your home or company lobby must be treated with absolute care and delicacy. Most cleansers will damage your chandeliers finish. We can clean every single piece of your chandelier including the brass or other metal bass, glass crystals, bulbs, and every other part. Preserve the look and finish of your chandeliers by having it cleaned properly.
Ceiling Fans – Heavy dirt and dust on your ceiling fan can damage it's working parts over time. They need to be routinely cleaned to avoid buildup. We will clean and polish all the parts of your fan. A clean fan keeps airborne allergens from spreading throughout your house.
Solar Panels – Like many other parts of your building's exterior, solar panels require specialized cleaning in order to preserve their finish and insure that they are working properly. Since solar panels are usually placed on the roof of your home or office, cleaning needs to be performed by an experienced cleaning team in a safe manner to avoid needless injury.
Gutters – We recommend having your home or office gutters cleaned a minimum of 4 times a year, generally at the beginning of each season. Gutter clutter can cause water to backflow and leak in your home or cause water damage to areas around the base of your home.
Bird Barriers – This type of system can be very time consuming and hazardous to install and clean. Southwest Ultra Clear will install or clean your bird barriers efficiently and safely.
Pressure Washing – We pressure wash anything and everything on your property. Siding and other wall surfaces, sidewalks, pathways, decks – you name it we can wash it. We use state of the equipment that allows us to adjust the type and pressure in order to wash your surface without damaging its finish.
If you are looking for professional window washing services in Las Vegas, then contact Southwest Ultra Clear. Call us at 702-219-3525 or complete our online request form.